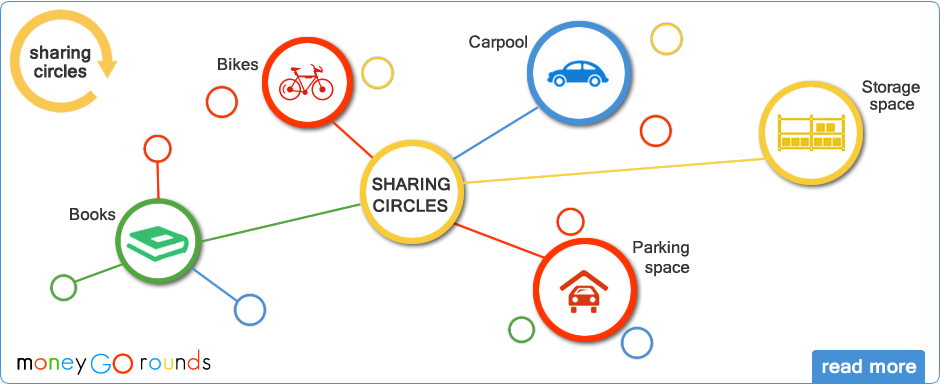 It's called collaborative consumption, (or the sharing economy) and it's changing the way we work, play, and interact with each other. It's fueled by the instant connection and communication of the Internet, yet it's manifesting itself in interesting ways offline too.
The collaborative consumption movement empowers people to thrive despite economic climate. Instead of looking to the government or corporations to tell us what we want or create a solution for our problems, we take action to meet our own needs in a creative fashion. This is our power source. If you're ready to connect with people who can help you save money, pursue your passions, and reduce waste, here's a quick-start guide to your sharing experience.
Start looking for ways to share at school, on community billboards, by asking friends or collegues.

Storage Space

Big-brand self-storage providers are charging and making an incredible amount of money out of people's need for extra space. As well as becoming increasingly expensive, these facilities can be miles away from where you need them. Then there's the small-print involved, which can be daunting to say the least. Some even insist on taking up their over priced in-house contents insurance. The thing is, with 'big business' it's rarely ever personal. Just think of all the garages, attics, spare bedrooms, basements, barns and perhaps even beach huts that are lying dormant in your area, right now. We're here to help you put them to use in a way that's good for you, good for your community and good for your wallet. Whether you're moving house, going abroad, studying or perhaps getting married, most of us need extra storage space at some point in our lives. At last you can find storage that doesn't come with confusing small-print and spiralling costs - and is actually pretty close at hand. Sharemystorage.com is here to offer a smarter, simpler, more social way to arrange your storage needs.
It's great to have spare space. But since you're probably paying rent or a mortgage on it, why not make it start paying for itself and help out friendly locals while you're at it? Renting out your spare space to people looking for storage can be a great way to earn some extra money – and all without lifting a finger.
Bike Sharing - Have a bicycle? Fixie? Mountain bike? Unicycle? Offer it for people to rent. Have it make money for you when it's idle. You decide who gets approved to rent it. It's totally free to offer your bike on money GO rounds and takes only a minute. You can make money from your bike whenever you are not using it. You can also offer it for free and be the most loved person in your neighborhood.
You decide the price, set up and manage your calendar. You can review peoples' profiles, ratings and trust score and decide who gets approved to rent it. To ensure safety and transparency, money GO rounds allows you to freely communicate with and consult user profiles.
You can easily manage your various requests. We ensure you receive payment in a timely manner. After people have rented your bike through the site, they are invited to leave you a review, which over time helps you build trust.
Carpooling (known as car-sharing, ride-sharing, lift-sharing and covoiturage), is the sharing of car journeys so that more than one person travels in a car. By having more people using one vehicle, carpooling reduces each person's travel costs such as fuel costs, tolls, and the stress of driving.
Carpooling is also seen as a more environmentally friendly and sustainable way to travel as sharing journeys reduces carbon emissions, traffic congestion on the roads, and the need for parking spaces. Authorities often encourage carpooling, especially during high pollution periods and high fuel prices.
Drivers and passengers offer and search for journeys through one of the several mediums available. After finding a match they contact each other to arrange any details for the journey(s). Costs, meeting points and other details like space for luggage are agreed on. They then meet and carry out their shared car journey(s) as planned. Carpooling is commonly implemented for commuting but is increasingly popular for longer one-off journeys, with the formality and regularity of arrangements varying between schemes and journeys.
Carpooling is not always arranged for the whole length of a journey. Especially on long journeys, it is common for passengers to only join for parts of the journey, and give a contribution based on the distance that they travel. This gives carpooling extra flexibility, and enables more people to share journeys and save money.
Today most carpooling is organized thanks to fast-emerging online marketplaces that allow drivers and passengers to find a travel match and make a secured transaction to share the planned travel cost. Like other online marketplaces, they use community-based trust mechanisms, such as user-ratings, to create an optimal experience for users.
Parking spot sharing
As drivers or passengers, we have all experienced the growing problem of parking. With resident permit holder bays springing up all over the country, car park prices making us wince and fines landing on windscreens at a record rate and with no sign of a slowdown, parking is becoming ever more restricted, costly and stressful.
At the same time, millions of driveways and car parks - next to major public transport hubs, town centres and theatres for example - stand empty when they could be providing parking for motorists and extra income to homeowners and businesses.
What's missing and greatly needed is something that brings drivers and their vehicles together with property-owners and their empty garages.
If you are one of the thousands of people whose daily commute involves driving to a station before hopping on a train or bus to get to work, you'll know the difficulty and frustration of finding somewhere to leave your car.
A station car park that is crammed by eight o'clock in the morning, the wrong change in your pocket for the ticket or a long trek to and from the station because you've had to park miles away are just some of the problems which face commuters. Not much fun if you're running late first thing in the morning or if you've had a long and stressful day at work. And if you're a woman, remote car parks are the last place you want to be when it's dark.
Resident permit holder schemes are being introduced all over the country for the very purpose of protecting homeowners and local businesses from all-day commuter car parking. And given that residents pay a couple of hundred pounds a year for a permit and still struggle to find parking within a couple of blocks of their homes, a service that protects residents' parking rights outside their own front door seems fair.
But that doesn't solve the problem for commuters.
If you know that you need to leave your car in a particular location everyday, why don't you make a convenient and cost-effective arrangement with a local resident through money GO rounds? At the very least, a pre-booked, penalty-free parking space might mean a few extra minutes in bed each morning!